Alexander Calder
1898- 1976
Artist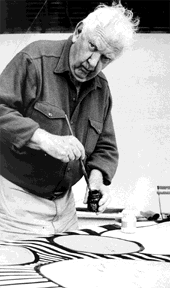 Artist Alexander Calder is best known for his creative abstract mobile constructions, although he was originally trained as a mechanical engineer. He was also an illustrator and printmaker and designed many stage sets. His artistic influences ranged from Mondrian to Arp to Miro, and it was Marcel Duchamp who first gave the name "mobile" to Calder's signature work.

Bibliography:

Calder at Home: The Joyous Environment of Alexander Calder / Photographs and text by Pedro E. Guerrero; foreword by Alexander S.C. Rower; introduction by Martin Filler. Guerrero, Pedro E. New York : Stewart, Tabori & Chang, c1998.

Lipman, Jean; with Margi Conrads. Calder Creatures, Great and Small. New York : E.P. Dutton, 1985.

Marchesseau, Daniel; Translated by Eleanor Levieux and Barbara Shuey. The Intimate World of Alexander Calder. Paris: Solange Thierry; New York : Distributed by Harry N. Abrams, c1989.