George Bush
1924-
American Politician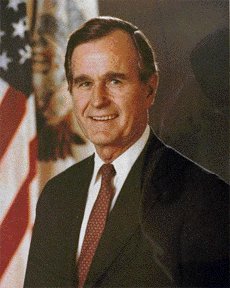 George Herbert Walker Bush was born in Milton, Massachusetts. On June 12, 1942, his eighteenth birthday, Bush enlisted in the US Navy. He became the Navy's youngest pilot. He flew 58 combat missions against Japanese targets, and was shot down once and rescued by a submarine. At the end of the war, Bush went to Yale, from which he graduated in 1948.
In 1966, Bush was elected to Congress as a representative from the Houston area. While in Congress he was a supporter of the Vietnam War. He also voted for the Civil Rights Act of 1968, which was very unpopular in his district. In 1970, Bush ran unsuccessfully for the Senate.
President Nixon appointed him Ambassador to the UN in 1971. From 1973-1974, he served as Chairman of the Republican Committee. In 1974, President Ford appointed Bush head of the US Liaison to China, effectively the US Ambassador to China. From 1976-1977, Bush served as Director of the CIA.
In 1979, he began an unsuccessful campaign for the Republican nomination for President. He lost to Ronald Reagan, but from 1981 to 1989 he served as Reagan's Vice President. Bush was elected to the Presidency in 1988.
Bush was extremely active in foreign affairs. His most notable achievement was developing an international coalition to fight Iraq after the invasion of Kuwait. Bush lost his re-election bid to Bill Clinton. Clinton promised more attention to American domestic affairs. With the Cold War ended, the people of the US were ready for a change.

Bibliography:

Bush, George and Scowcroft, Brent. A World Transformed. New York : Knopf ; Distributed by Random House, c1998.

Parmet, Herbert S. George Bush: The Life of a Lone Star Yankee. New York : Scribner, c1997.

Pemberton, William E. George Bush (Rourke Biographies : World Leaders) . 1993. Rourke Pub Group.

Schlesinger, Arthur. George Bush : U.S. President (World Leaders Past and Present) . 1993. Chelsea House Pub.

Sufrin, Mark. George Bush : The Story of the Forty-First President of the United States 1993. Yearling Books.

Woodward, Bob. Shadow: Five Presidents and The Legacy of Watergate. New York, NY : Simon & Schuster, c1999.