William Brennan
1906-1997
Supreme Court Justice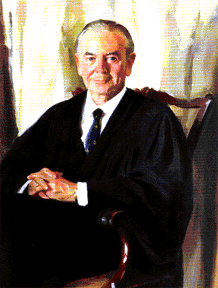 As an associate justice of the Supreme Court from 1956-1990, William Brennan was a strong voice in support of civil rights and led the liberal wing of the court after 1970. He was appointed to the bench by President Eisenhower after having served on the New Jersey State Supreme Court. An ardent believer in consensus, Brennan's deft hand allowed liberal decisions to continue to be generated, even after the appointment of new conservative members of the Court.

Bibliography:

Eisler, Kim Isaac. A Justice For All: William J. Brennan, Jr., And The Decisions That Transformed America. New York : Simon & Schuster, c1993.

Goldman, Roger L. with David Gallen. Justice William J. Brennan, Jr.: freedom First. New York : Carroll & Graf Publishers, c1994.

Irons, Peter H., Brennan vs. Rehnquist: The Battle for the Constitution. New York: Knopf : Distributed by Random House, c1994.