Benazir Bhutto
1953- 2007
Pakistani Politician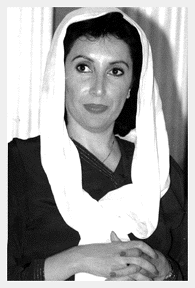 Benazir Bhutto, who received an A.B. from Radcliffe and an M.A. from Oxford, is the daughter of former Pakistani Prime Minister Zulfikar Ali Bhutto. Her father was executed in 1979. Shortly thereafter, Benazir assumed the leadership of the Pakistani People's Party. Returning to Pakistan from exile in 1986, she became Prime Minister in 1988. In August of 1989, Pakistan's President Ghulam Ishag Khan dismissed Bhutto, claiming she was corrupt. In 1993 she was once again elected to the to be Prime Minister. She was ousted again in 1996 once again charged with corruption. She went into exhile in Dubai. In October 2007 General Musharraf granted her amnesty and she returned to Pakistan. Soon after her return an assasination attempt was made on her life, but that failed. On December 27th while enroute to a political rally she was assasinated.

Bibliography:

Bouchard, Elizabeth. Benazir Bhutto: Prime Minister. New York : Rosen Pub. Group, c1992.

Doherty, Katherine M. Benazir Bhutto. New York : Watts, c1990.
Hughes, Libby . Benazir Bhutto : From Prison to Prime Minister. 1990. Dillon Press.

Zakaria, Rafiq .Women and Politics in Islam : The Trial of Benazir Bhutto . 1990. New Horizons Press.

Zakaria, Rafiq. The Trial of Benazir Bhutto : An Insight into the Status of Women in Pakistan . 1991. Eureka Pubns.