Louis Armstrong
1900- 1971
American Jazz Musician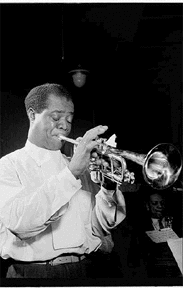 Trumpeter Louis Armstrong was known for his brilliant, innovative style. He was born in New Orleans in 1900 and began playing publicly at the age of 13. By 18, Armstrong had become a soloist on New Orleans riverboat bands and, in 1922 moved to Chicago, earning a reputation as a trumpet player there. By 1925, he had organized his own band called the Hot Five, and in 1932 he embarked on the first of a number of successful European tours. Over the ensuing decades, Armstrong became one of the most beloved entertainers in the United States, appearing on television and in films.

Bibliography:

Dempsey J. Travis; introduction by Clark Terry. The Louis Armstrong Odyssey: From Jane Alley to America's Jazz Ambassador. Chicago : Urban Research Press, c1997.

Bergreen, Laurence. Louis Armstrong: An Extravagant Life. New York: Broadway Books, c1997.

Orgill, Roxanne; illustrated by Leonard Jenkins. If I Only Had A Horn: Young Louis Armstrong. Boston, Mass. : Houghton Mifflin, c1997.