Woody Allen
1935-
Film Maker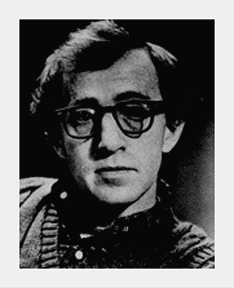 Brooklyn-born Woody Allen represents a "quadruple threat" as a successful comic, director, actor and writer. His endearing, if somewhat neurotic, comic persona has figured prominently in much of his stage, film, and written work. Allen's film, Annie Hall (1977) won three Oscars.

Bibliography:

Groteke, Kristi. (with Marjorie Rosen). Mia & Woody: Love and Betrayal. Other Title(s): Mia and Woody. By Groteke, Kristi. New York : Carroll & Graf ; [Emeryville, CA : Distributed by Publishers Group West], c1994.

Brode, Douglas. The films of Woody Allen. Other Title(s): Woody Allen, his films and career.

Lax, Eric. Woody Allen : A Biography. New York : Knopf : Distributed by Random House, c1991.