Morris, Robert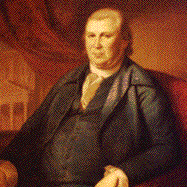 In 1734 Robert Morris was born near Liverpool, England. When he was thirteen years old he joined his father, a tobacco exporter, in Oxford Maryland. For a brief period of time he studied in Philadelphia, but quickly found work with a shipping firm. In 1754 he became a partner in this firm. Over the course of the next forty years, he gradually grew to be one of the most powerful men in Philadelphia.
Morris first became involved in the Revolutionary movement when controversy arose over the Stamp Act in 1765. In 1775 the Continental Congress selected his firm to import ammunition. Between 1775 and 1776 he served on Pennsylvania council of safety, the committee of correspondence, and the provincial assembly. In addition, he sat on the State legislature from 1776 until 1778. At the Continental Congress which he attended between 1776 and 1778, Morris concentrated matters dealing with finance and the procurement of military supplies. It is believed that his devotion to the military cause prevented what might have been a necessary demobilization of the Continental Army.
The work Morris did from 1781 to 1784 while Superintendent of Finance under the Articles of Confederation represented what can perhaps be considered the highlight of his political career. While holding this post, he managed to substantially cut all governmental and military expenditures, decided to contribute large amounts of his own money to cover Army and Navy supplies, and tightened accounting procedures.
In 1789 Washington offered Morris the position of Secretary of the Treasury, but he chose to turn it down in order to take a senatorial seat in Congress instead. He served as a senator up until 1795. Towards the end of his life, Morris became overly involved in the speculation of land in the West and lost a great deal of money. He was arrested and sent to debtors' prison in 1798. In 1801 he was released, but his health and spirit had deteriorated. He died in poverty in 1806 at the age of seventy-two, and was buried at Philadelphia's Christ Church.