US Navy Created 1775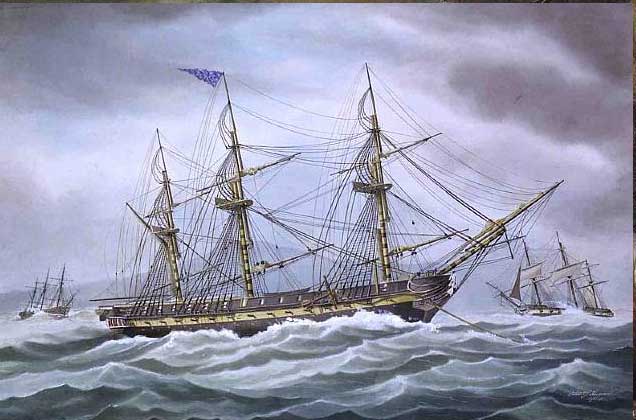 The Continental Congress capped a number of months of debate when it authorized on October 13th 1775 the arming of two sailing ships with guns. The two ships were then ordered to try to intercept two British ships on the way to Canada with armaments. Some of the members of the Congress led by John Adams had been advocating for the establishment of the Naval forces for many months, arguing that they could help protect coastal communities and disrupt British communications. The Southern delegates opposed the move which they felt as too radical and would do little to protect Southern ports. An initial proposal by the Rhode Island delegation to establish an American naval fleet was attacked as too vague and never came to a vote. Circumstances changed when news reached the Congress that the British were sending two unarmed ships laden with arms to Canada.
At the same time Congress received a report from General Washington in which he reported that he had enlisted three coastal schooners into his forces to help intercept British ships. Since the US now effectively had naval ships, authorizing the arming of additional ones no longer seemed a stretch for members of Congress. Thus on October 13th they so authorized the action While the US navy during the Revolutionary War could never really threaten the British Naval superiority, it fielded over 50 ships of various kinds during the war, and captured 200 British ships. The Navy was key in maintaining the American communications to Europe and bringing vital supplies to the US.
.