5/4/19 A Day of Rocket Fire on the South
My day started just like almost every Saturday begins, with a beautiful morning walk down to the dog beach with my dog. I was a little surprised to wake and not see notification of any rocket attacks, since last night, our Air Force had killed three members of Hamas, in response to a sniper attack on our troops stationed at the border. But on this clear, morning, there was none, at least initially. For an hour, as our dogs played, or just lounged in the sun, our regular group who gather each Saturday morning, argued politics, as usual, before we all headed home. By the time I reached my apartment, my watch had begun to vibrate with the first notifications of missile attacks in the South.
For the past 12 hours, my watch or phone have been vibrating continuously. Israel is a very strange country. One-third of the country was, and remains under rocket attack.,Yet as I walked along Dizengoff Street early this evening with my son and our dog, the bars were packed, the cafes were crowded, and the street was filled with people. Most realized that Hamas could decide to extend the range of their rockets and fire at Tel Aviv at any moment. However, I guess we all assume Iron Dome will have enough time to intercept any rockets before they reach Tel Aviv.
In the South, it's a different matter. As of 10:30 PM, over 250 rockets have been fired on southern Israel, with 70% landing in open fields. School has been cancelled for tomorrow, as has work, in places within 40 kilometers of Gaza, without a safe room.
The current round of attacks should come as no real surprise. In November 2018, when the last round of attacks occurred, we agreed to a ceasefire after bombing empty buildings. Israel employed the same response when rockets were fired at Be'ersheva and Tel Aviv earlier this year. Prime Minister Netanyahu is risk-averse, he knows the adage, "From the start, you know a war begins, you do not know how it ends." However, Netanyahu's risk aversion has led us into a condition where despite our overwhelming military advantage, we seem to have lost our deterrent capability — Hamas believes it can get away with repeatedly firing hundreds of rockets at Israel. Luckily for us, we do have Iron Dome, a defense system which is effective 95% of the time. We have also been lucky that in the few instances when Iron Dome failed to intercept rockets, those rockets hit empty buildings, and few have been injured. Though I fear at some point our luck will run out. It's just a matter of the odds.
In a national election just a few weeks ago, the country voted to continue the same policy we have had toward Gaza. In the areas immediately surrounding the Gaza Strip, Sderot, Ashkelon, and Netivot, Netanyahu's government received more votes than they had in the previous election — even though Netanyahu's main opposition was made up of three former Army Chiefs of Staff. Tomorrow, the security cabinet will meet for the first time in months. We are three days away from Memorial Day, four days from Israel's Independence Day, and a little over a week away from the beginning of the Eurovision Song Contest. Hamas and the Islamic Jihad are counting on these events, coupled with Netanyahu's innate caution to stop Israel from changing the rules of the game. Hamas might be right, but world history is full of wars that started because of a miscalculation by one side or the other.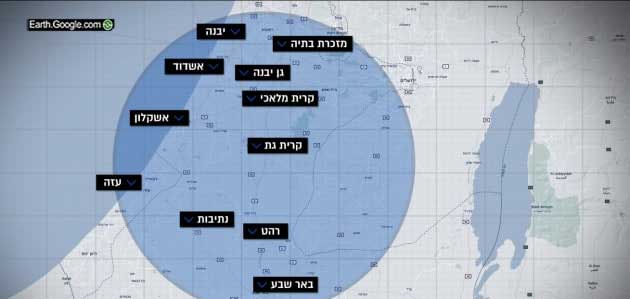 The area in which no school will be taking place on Sunday, May 5th due to today's events.