5/19/19 Eurovision
Israel's "Year of the Eurovision" (a 55-year-old international song competition in which the nations of Europe, Israel, and Australia participate) came to an end on Saturday night, when the Netherlands won the 2019 competition. It began with a win, one year ago, by Netta Barzali at the 2018 contest in Lisbon, which kicked off nationwide celebrations. The winning country is designated to host the competition the following year. Initial talk indicated Eurovision would be held in Israel's capital, Jerusalem, as it had been when the country won previously. It soon became apparent that given the Israeli politic of 2019, Eurovision, with its Saturday dress rehearsals, would not make a good fit for the holy city. Instead, the city of Tel Aviv stepped up and promised to take care of all the arrangements for the Eurovision competition.    
The Tel Aviv municipality, together with the newly recreated Public Broadcasting Authority were up to the challenge — and by all accounts — created a city-wide celebration unparalleled in Eurovision history. Tel Aviv set up a Eurovision Village for all those who could not afford or obtain a ticket to the actual event that only seated 6,000+. Over the course of the week, more than half a million people visited the Eurovision village to hear free concerts, and eat food from dozens and dozens of vendors. 
The competition venue was also extremely well organized. The nearly 1,500 reporters and bloggers who came were treated to free tours and transport. The show itself went off without nearly a hitch, as the UK Independent called it, "One of the best Eurovision Song Contests in recent memory." 

While the show was a tremendous success, it was not always clear that would be the case. The BDS movement tried to persuade artists not to participate. They failed. Even Iceland, which had considered a boycott, chose instead to put on a performance intended as a protest, but which came off as a strange and interesting production, with minimal political relevance.  Madonna performed, as a special guest, despite pressure from the BDS community. She added the only other moment of politics interjected into the evening, when two of her singers wore Israeli and Palestinian flags on their backs and held hands.  
There was also an attempt to persuade visitors not to come, but those efforts seem to have failed as well. I asked a consultant from Madrid, Jamie about whether the BDS movement had affected any of his friends' decisions on whether to attend Eurovision in Israel. He said that no one talks about BDS in Madrid, because too many Spanish businesses work together with Israeli companies. Ororo, a young woman from the French Alps, who manages a restaurant, echoed that same view. She stated that politics would never impact her decision on whether or not to attend Eurovision. Instead, Ororo and others revealed that the primary factor which kept people from attendance was the steep price. She had planned to visit here with her whole family, but when she saw the prices, she realized she would have to attend alone. Tom from Ireland, who currently lives in Australia, and indicated he attends all of the Eurovision competition, confirmed that this year's contest was the most expensive he ever attended.  
As the Eurovision Center opened two weeks ago, it remained unclear that the Eurovision would indeed occur. On Sunday, May 5th, when I visited the newly opened press center, rockets launched from Gaza pounded southern Israel, while Israeli planes bombed Gaza. I spoke to Pablo from Italy and asked him if the rocket fire had not made overly him fearful to attend.  Pablo replied that his family was concerned, but he told them he often goes to much more dangerous places. However, with celebrations of Israeli Independence Day looming later that week, and the Eurovision scheduled the week after, a ceasefire (whose terms remain unclear to this day) was quickly reached. Although elements in Gaza claimed they planned to disrupt the competition, Hamas decided it was not in its interest to do so, and even canceled their weekly protests at the border fence on the Friday before the mega concert. 
Tel Aviv is often referred to as "a bubble inside Israel." For the last two weeks, we have been living in a bubble, inside the bubble (i.e., Eurovision, inside Tel Aviv). However, that is over and now, we all return to reality — a reality where, as part of his attempt to build his coalition, Prime Minister Benjamin Netanyahu has been working to ensure legislation is passed to give himself immunity from his coming indictments, and by doing so, he'll emasculate the powers of the Supreme Court.  
It is a reality where everyone expects another conflict with Gaza by the end of the summer. It is an Israel that has reportedly struck targets in Syria during the past two nights. It is an Israel that looks anxiously eastward toward Iran, unsure what the US strategy towards Iran truly is and what consequences may lay ahead for Israel.  
On Sunday morning, Israelis woke up to the news that four workers were killed when a crane collapsed, in another long list of building accidents that have occurred recently. Unfortunately, a tragic, but transcendent metaphor for the country's return to earth, after the Eurovision high of the last week.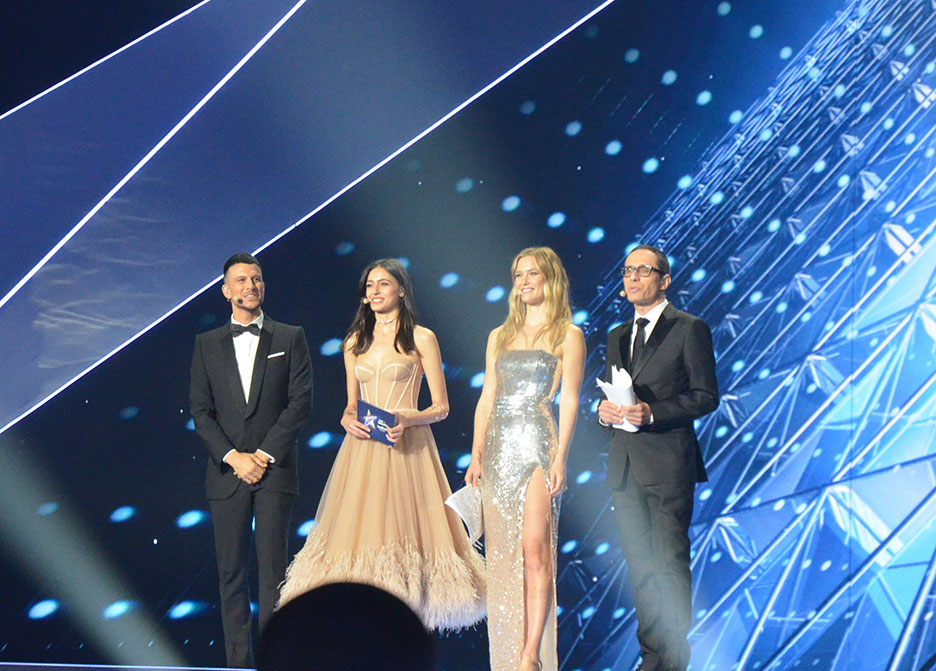 Rabin Square Memorial Service