Three Civil Rights Workers Slain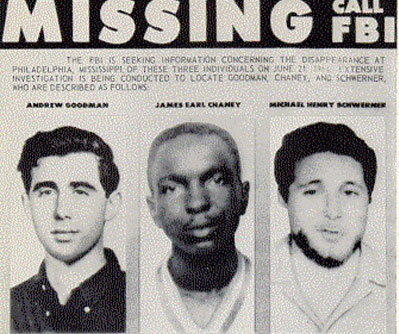 On August 4, 1964, the bodies of three civil rights workers, James Cheney, Michael Schwerner and Andrew Goodman, were discovered. Over two dozen white segregationists were accused of killing the workers.
---
By 1964 the major effort to empower African Americans in the South was to register them to vote.
James Chaney of Meridan Mississippi, Michael Schwerner and Andrew Goodman of New York had decided to spend the summer of 1964 working to increase that vote. Schemer and Chaney spoke at the end of May at the out Zion Methodist Church in Longdale Mississippi calling on congregants to register to vote. They quickly became targets of White National in the area.
The church itself was burned down. On June 21, Chaney, Schwerner, and Goodman met in Meridan and decided to travel to investigate the burning of the church. The three went to Longman. On the way back to Meridan, the three were stopped by Harry Jackson Wiggs and Earl Robert Poe of the Mississippi Highway Patrol for speeding. After being released from jail, they were followed by a mob and were killed.
The three were deemed missing, and a massive search took place to find them without results. Finally, after receiving a tip, their bodies were found in August.The killings shocked America.
In October 1967 seven men were convicted of taking part in the killings and sentenced to three to ten years. In 2005 Edgar Ray Killen was indicted on three counts of murder. He was convicted of three counts of manslaughter and sentenced to consecutive 20 years sentences.