HistoryCentral.com > American History > New Nation > Major Events > 1817 Seminole War
---
1817 Seminole War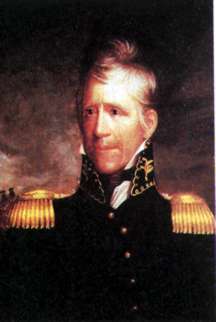 The Seminole War was a result of the joint activities between the Seminole Indians and fugitive slaves who frequently raided settlements in Georgia. General Andrew Jackson was sent to bring the Indians under control; a task which he successfully completed, even though he caused a storm by exceeding his authority.
---
Settlers in Georgia were often attacked by Seminole Indians and fugitive slaves operating out of sanctuaries in Florida. The United States demanded that the Spanish take action to stop these incursions. When it became clear that Spain was not capable of ending the incursions, General Andrew Jackson was assigned to take action.

Jackson was instructed to attack the Indians, but to take no action against the Spanish. Jackson promptly invaded, destroyed the Seminole villages and executed two British men whom he claimed had aided the Indians. He also captured Spanish outposts.

Many members of Monroe's Cabinet wished to censure Jackson for exceeding his authority. Ultimately, Secretary of State John Quincy Adams convinced the Cabinet that what Jackson had done was justified and had worked to the advantage of the United States.