A Daily Analysis
By Marc Schulman
October 20, 2011- Simchat Torah in Israel // Gadafhi Is Killed//Shalit at Home
Today was Simchat Torah in Israel, a day with happiness in its very name. It ended up being a double happy day. For starters, despite the problematic nature of the deal, Israelis continued to feel a sense of satisfaction and happiness at the return of Gilad Shalit. There was a shared good feeling at the scenes of him riding a bike, and the reports that, by and large, he is in better condition than people had expected.
By late in the afternoon Israelis slowly become aware of the news that Muammar Gadafhi had been killed. While recently not a direct threat to Israel, he is not remembered foundly, and has a long record of supporting terrorism. As readers of this column know I have a special reason to feel satisfied today; as the murderer of my childhood friend is now dead. It has taken almost 40 years, but my friend's death, and that of his father have finally been avenged.
Tonight Israel celebrated with what has become a tradition the night after Simchat Torah, "Second Hakafot". We attended the celebrations in Rabin Square, a few blocks from our house. A clear attempt was made to tie the celebrations of the night with the Shalit release. Interestingly, one of the speakers, the former Chief Rabbi, Rabbi Yisrael Lau spoke about what the actions of the Shalit family teach us. He stated that whether you agree with the decision to make the deal or not, you cannot but be amazed at what one family could accomplish because they were determined to free their son.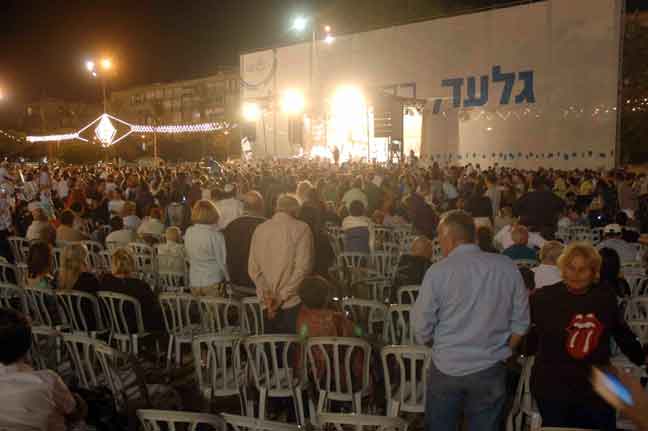 Rabin Square, Tel Aviv the evening of 10/20/2011