A Daily Analysis
By Marc Schulman
April 3, 2011 Goldstone Recants, Syrian Protest in NY, Israeli Doctors Strike ?
The dominant news from Israel today all centered on the op-ed article that Judge Richard Goldstone published in the Washington Post Friday night. In the article, Goldstone, unequivicably states that many of the finding of his report would have been different if he were writing it today. In his article he talks positively of the investigations the Israeli army has conducted since his report came out. Goldstone stated in the article that "while the investigations published by the Israeli military and recognized in the U.N. committee's report have established the validity of some incidents that we investigated, in cases involving individual soldiers, they also indicate that civilians were not intentionally targeted as a matter of policy." Goldstone further describes his dissapointment that Hamas has not investigated the crimes he has stated they had undertaken. He admits he might have been naïve in expecting Hamas to investigate.

In Israel the article was received with a sigh... finally, a piece of good news. Of course, there was the realization that there is no way to turn back the clock, and much of the damage had already been done. There is, of course, the additional realization that maybe if Israel had cooperated with Goldstone originally, things might have turned out better. Ultimately, in the rapidly changing geo-political situation in the Middle East, one should be careful not to become sidetracked by the article.

Talking about a changing Middle East... I was walking in Manhattan with my son today and came across a noisy demonstration, calling to the downfall of Assad in Syria. It was strange to see an Arab demonstration in New York that was not attacking Israel.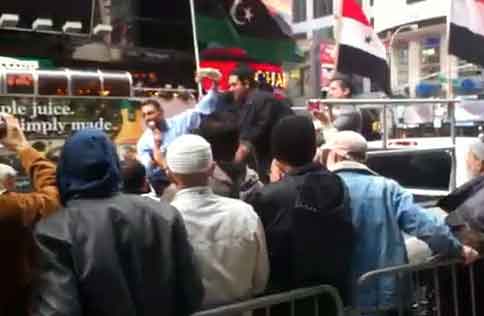 The association of Israeli doctors began a strike against Israel's public health care institutions. The doctors will begin to strike (by operating on a Shabbat schedule) two days a week. Their goals are two-fold, both economic, as well structural. The doctors are demanding a base pay increase from the current 40 shekel/an hour rate (the shekel is 3.65 today) about $11 to a 60 shekel/an hour rate. Israel's Channel 10 Medical reporter showed the a pay stub of a doctor she knew who was trained in two areas of specialization. His net salary 9,100 shekel ($2430)a month.
President Assad of Syria gave a long delayed speech today. Much to the surprise of the outside world, Assad did not make any concessions in the speech. Instead, blamed outside agitators for the demonstrations. It was widely believed that Assad would remove some the emergency ordinances that have been in effect for the last 40 years. After watching the speech, most Israeli observers believed that Assad is detached from reality, and that this is only the beginning of events in Syria.