Hap Arnold
1886- 1950
US Airforce General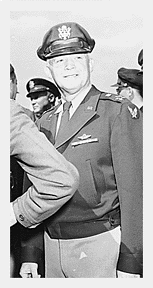 General Henry Harley "Hap" Arnold was taught to fly by the Wright Brothers in 1911. He commanded the US Army Alaskan flight in 1934 and in 1938 was appointed Commander of the Army Air Corps by President Roosevelt. Arnold supervised the growth of the US Air Corps into the largest in the world. Arnold participated in all the major conferences during World War II.

Bibliography:

Coffey, Thomas M. Hap the Story of the U S Air Force and the Man Who Built It General Hap . 1982. Viking Press.
Dupre, Flint O. Hap Arnold: Architect of American Air Power. 1973. MacMillan Pub Co.