November 2003 in Iraq
November 1- Two American soldiers of the 101st Airborne Division were killed in a bomb explosion in Mosul
November 2- Insurgents shot down a US Chinook helicopter outside the city of Falluja. The insurgents fired a missile at the helicopter, hitting it in the engine compartment. The copter exploded on impact killing 16 soldiers and wounding an additional 20, Most of the soldiers on board were on their way for short furlough back home in the United States.
November 7th Six soldiers were killed when a Black Hawk helicopter went down near Tikrit
November 12th- 26 people are killed in a suicide bombing in Nasiriya. The bombing took place in the courtyard of the Italian paramilitary police headquarters. 17 Italians were killed in the attack.
November 20th A truck bomb killed five people in Kirkurk. The bombing took place near the offices of the Kurdish party
November 22- 14 people were killed when suicide bombers attacked two police stations including one in Baghdad and a second at Khan Bani Saad
November 30th- Seven Spanish Security agents and two Japanese diplomats were killed in separate attacks in Iraq. The ambushes were clearly designed to drive a wedge between America and its allies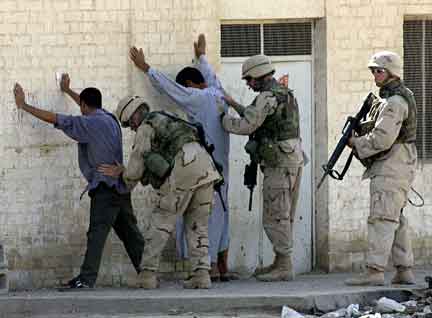 ---