Rutherford Hayes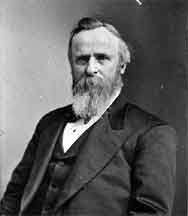 Rutherford Hayes was born in Delaware, Ohio. His father had died 11 weeks before Rutherford's birth. He was raised by his mother and his maternal uncle. As a child, Hayes studied under a local schoolmaster. At 14, he attended the Norwalk Academy, a Methodist school run by Jonah Chaplin. The next year, he entered the college preparatory academy of Isaac Webb. At 16, Hayes enrolled in Kenyon College in Gambier, Ohio, were he graduated as the class valedictorian in 1842. In 1843, Hayes entered Harvard Law School, from which he graduated in 1845. He was admitted to the bar two months later.

From 1845 -1858, Hayes ran a legal practice in Fremont, Ohio. From 1858-1861 he served as the Cincinnati City Solicitor. In June, 1861, Hayes enlisted in the Union army. He rose to the rank of Major General, and was wounded in battle several times, becoming a local hero.

In 1864, while still in uniform, Hayes was nominated for an Ohio seat in Congress. When it was recommended that he return home from the battlefront to campaign, he responded, "an officer fit for duty who at this crisis would abandon his post to electioneer in Congress ought to be scalped." Needless to say, he won his election, and served in Congress until 1868. He was a supporter of the radical Republicans.

In 1868, running on a platform of universal suffrage, Hayes won election as the Governor of Ohio. As Governor, Hayes trimmed the state debt by 20% and encouraged merit appointments.
Hayes became President following the most contested elections in history. Part of the compromise that allowed him to become President included the removal of federal troops from the South. Hayes fulfilled his promise, and thus ended reconstruction, and restored white supremacy to the South.

Hayes was a supporter of a strong currency. He opposed the Bland Allison Act that required the government to purchase silver monthly, thereby inflating the currency. The Bill was passed, in spite of Hayes' veto. He was a strong supporter of Civil Service reform, and repeatedly called for the funding a comprehensive civil service commission, but Congress refused.