GDP (2008): $492billion PPP.
Real GDP growth rate (2008): 3.1%.
GDP per capita (2008): 10,1000.
Unemployment (September 2009): 22.9%.


Budget: Income .............. $30.5 Billion
Expenditure ... $38 Billion

Main Crops: Corn, wheat, sugarcane, fruits, vegetables; beef, poultry, mutton, wool, dairy products.

Natural Resources: Gold, chromium, antimony, coal, iron ore, manganese, nickel, phosphates, tin, uranium, gem diamonds, platinum, copper, vanadium, salt, natural gas.

Major Industries: mining (world's largest producer of platinum, gold, chromium), automobile assembly, metalworking, machinery, textile, iron and steel, chemical, fertilizer, foodstuffs.

NATIONAL GNP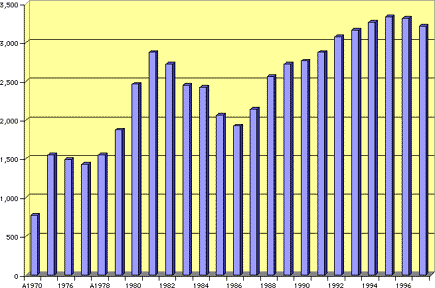 South Africa has a two-tiered economy; one rivaling other developed countries and the other with only the most basic infrastructure. It therefore is a productive and industrialized economy that exhibits many characteristics associated with developing countries, including a division of labor between formal and informal sectors, and uneven distribution of wealth and income. The formal sector, based on mining, manufacturing, services, and agriculture, is well developed.

The transition to a democratic, nonracial government, begun in early 1990, stimulated a debate on the direction of economic policies to achieve sustained economic growth while at the same time redressing the socioeconomic disparities created by apartheid. The Government of National Unity's initial blueprint to address this problem was the Reconstruction and Development Program (RDP). The RDP was designed to create programs to improve the standard of living for the majority of the population by providing housing--a planned 1 million new homes in 5 years--basic services, education, and health care. While a specific "ministry" for the RDP no longer exists, a number of government ministries and offices are charged with supporting RDP programs and goals.

The Government of South Africa demonstrated its commitment to open markets, privatization, and a favorable investment climate with its release of the crucial Growth, Employment and Redistribution (GEAR) strategy--the neoliberal economic strategy to cover 1996-2000. The strategy had mixed success. It brought greater financial discipline and macroeconomic stability but has failed to deliver in key areas. Formal employment continued to decline, and despite the ongoing efforts of black empowerment and signs of a fledgling black middle class and social mobility, the country's wealth remains very unequally distributed along racial lines. However, South Africa's budgetary reforms such as the Medium-Term Expenditure Framework and the Public Finance Management Act--which aims at better reporting, auditing, and increased accountability--and the structural changes to its monetary policy framework--including inflation targeting--have created transparency and predictability and are widely acclaimed. Trade liberalization also has progressed substantially since the early 1990s. South Africa has reduced its import-weighted average tariff rate from more than 20% in 1994 to 7% in 2002. These efforts, together with South Africa's implementation of its World Trade Organization (WTO) obligations and its constructive role in launching the Doha Development Round, show South Africa's acceptance of free market principles.

Financial Policy
South Africa has a sophisticated financial structure with a large and active stock exchange that ranks 17th in the world in terms of total market capitalization. The South African Reserve Bank (SARB) performs all central banking functions. The SARB is independent and operates in much the same way as Western central banks, influencing interest rates and controlling liquidity through its interest rates on funds provided to private sector banks. Quantitative credit controls and administrative control of deposit and lending rates have largely disappeared. South African banks adhere to the Bank of International Standards core standards.

The South African Government has taken steps to gradually reduce remaining foreign exchange controls, which apply only to South African residents. Private citizens are now allowed a one-time investment of up to 750,000 rand (R) in offshore accounts. Since 2001, South African companies may invest up to R750 million in Africa and R500 million elsewhere.

Trade and Investment
South Africa has rich mineral resources. It is the world's largest producer and exporter of gold and platinum and also exports a significant amount of coal. During 2000, platinum overtook gold as South Africa's largest foreign exchange earner. The value-added processing of minerals to produce ferroalloys, stainless steels, and similar products is a major industry and an important growth area. The country's diverse manufacturing industry is a world leader in several specialized sectors, including railway rolling stock, synthetic fuels, and mining equipment and machinery.

Primary agriculture accounts for about 4% of the gross domestic product. Major crops include citrus and deciduous fruits, corn, wheat, dairy products, sugarcane, tobacco, wine, and wool. South Africa has many developed irrigation schemes and is a net exporter of food.

South Africa's transportation infrastructure is well-developed, supporting both domestic and regional needs. The Johannesburg International Airport serves as a hub for flights to other southern African countries. The domestic telecommunications infrastructure provides modern and efficient service to urban areas, including cellular and Internet services. In 1997, Telkom, the South African telecommunications parastatal, was partly privatized and entered into a strategic equity partnership with a consortium of two companies, including SBC, a U.S. telecommunications company. In exchange for exclusivity to provide certain services for 5 years, Telkom assumed an obligation to facilitate network modernization and expansion into unserved areas. The government is evaluating a proposal to establish a second network operator to compete with Telkom across its spectrum of services. Three cellular companies provide service to over 9 million subscribers.

South Africa's GDP is expected to increase gradually during the next few years, and the government recently revised upward its 2005 estimated growth to 4.3%. Annual GDP growth between 1994 and 2004 averaged 3.0%. In 2003, real GDP growth slowed to a rate of 2.8%, but increased to 3.7% in 2004. The government estimates that the economy must achieve growth at a minimum of 6% to offset unemployment, which is estimated at 28%, although unofficial sources put it as high as 41%. In an effort to boost economic growth and spur job creation, the government has launched special investment corridors to promote development in specific regions and also is working to encourage small, medium, and microenterprise development. One of the great successes of the ANC government has been to get consumer inflation, which had been running in the double digits for over 20 years, under control. By 1998, inflation had fallen to 6.9%, and in 1999 and 2000 inflation was running at less than 6.0%. The rand's rapid depreciation in late 2001, however, led to greater inflationary pressure, causing 2002 inflation of 9.2%. The South African government cut the inflation rate to 4% in 2004, and the rand appreciated 39% from 2002 to 2004. The South African Reserve Bank increased interest rates and along with the 28% rand appreciation in 2003 led a reduced consumer inflation of 5.8%. The government also has made inroads into reducing the fiscal deficit and increasing foreign currency reserves. The government deficit was 1.1% of GDP in 2002 and 2.6% in 2003. The government's 2005 budget calls for a moderate increase in spending to promote faster growth and poverty alleviation, while curbing budget deficits.

Exports reached 28.2% of GDP in 2003, up from 11.5% a decade ago. South Africa's major trading partners include the United Kingdom, the United States, Germany, Italy, Belgium, and Japan. South Africa's trade with other Sub-Saharan African countries, particularly those in the southern Africa region, has increased substantially. South Africa is a member of the Southern African Customs Union (SACU) and the Southern African Development Community (SADC). In August 1996, South Africa signed a regional trade protocol agreement with its SADC partners. The agreement was ratified in December 1999, and implementation began in September 2000. It intends to provide duty-free treatment for 85% of trade by 2008 and 100% by 2012.

South Africa has made great progress in dismantling its old economic system, which was based on import substitution, high tariffs and subsidies, anticompetitive behavior, and extensive government intervention in the economy. The new leadership has moved to reduce the government's role in the economy and to promote private sector investment and competition. It has significantly reduced tariffs and export subsidies, loosened exchange controls, cut the secondary tax on corporate dividends, and improved enforcement of intellectual property laws. A new competition law was passed and became effective on September 1, 1999. A U.S.-South Africa bilateral tax treaty went into effect on January 1, 1998, and a bilateral trade and investment framework agreement was signed in February 1999.

South Africa is a member of the World Trade Organization (WTO). U.S. products qualify for South Africa's most-favored-nation tariff rates. South Africa also is an eligible country for the benefits under the African Growth and Opportunity Act (AGOA), and most of its products can enter the United States market duty free. South Africa has done away with most import permits except on used products and products regulated by international treaties. It also remains committed to the simplification and continued reduction of tariffs within the WTO framework and maintains active discussions with that body and its major trading partners.

As a result of a November 1993 bilateral agreement, the Overseas Private Investment Corporation (OPIC) can assist U.S. investors in the South African market with services such as political risk insurance and loans and loan guarantees. In July 1996, the United States and South Africa signed an investment fund protocol for a $120 million OPIC fund to make equity investments in South Africa and southern Africa. OPIC is establishing an additional fund--the Sub-Saharan Africa Infrastructure Fund, capitalized at $350 million--for investment in infrastructure projects. The Trade and Development Agency also has been actively involved in funding feasibility studies and identifying investment opportunities in South Africa for U.S. businesses