George W Bush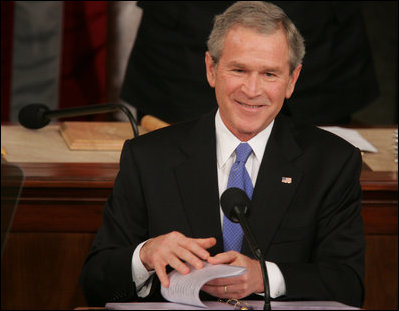 President Bush was elected in the closest election in modern history. He is the first President in this century to lose the popular vote and win the electoral vote.
---
The Early Years

George W. Bush was born July 6th, 1946 and grew up in Midland and Houston, Texas. He received a bachelors degree from Yale University and an MBA from Harvard Business School. He served as an F-102 pilot for the Texas Air National Guard. He began his career in the oil and gas business in Midland in 1975 and worked in the energy industry until 1986. After working on his fatherÕs 1988 presidential campaign he assembled the group of partners that purchased the Texas Rangers baseball franchise in 1989 and which later built the RangerÕs new home, the Ballpark at Arlington.

He served as managing general partner of the Texas Rangers until he was elected Governor on November 8, 1994, with 53.5 percent of the vote. In a historic re-election victory, he became the first Texas Governor to be elected to consecutive four-year terms on November 3, 1998 winning 68.6 percent of the vote.

In 1998 Governor Bush won 49 percent of the Hispanic vote, 27 percent of the African-American vote, 27 percent of Democrats and 65 percent of women. He won more Texas counties, 240 of 254, than any modern Republican other that Richard Nixon in 1972 and is the first Republican gubernatorial candidate to win the heavily Hispanic and Democratic border counties of El Paso, Cameron and Hidalgo
Accomplishments in Office
President Bush early accomplishment was the passage of a large tax cut. His Presdiency was forever framed by the twin attacks on September 11th on the World Trade Center in New York and the Pentagon in Washington. President Bush then led a large international coalition which removed the Taliban in Afghanistan who were harboring Al Quieda. President Bush then went on to lead American military forces in a campaign that ousted Saddam Hussien in Iraq.
Presidents Bush's second term has been more challenging, The administrations response to the destruction of large areas of Louisiana and the flooding of New Orleans was widely criticized. The War of Iraq steadily lost support during Bush's second term, largely making it impossible to accomplish any of his other goals. The Republicans lost control of both houses of Congress in the mid-term election of 2006.
The First Family

.
Father: George Bush
Mother:Barbara Bush
Wife: Laura Welch
Daughters: Barbara and Jenna
Cabinet
Secretary of State: Colin Powell Condoleezza Rice
Secretary of Treasury Paul O'Neill John Snow Henry Paulson
Secretary of Defense Donald Rumsfeld Robert Gates
Attorney General John Ashcroft Alberto Gonzales Michael Mukasey
Secretary of the Interior Gale Norton Dirk Kempthorne
Secretary of Agriculture: Ann Veneman Mike Johanns Ed Schafer
Secretary of Commerce Donald Evans Carlos Gutierrez
Secretary of Labor Elaine Chao
Secretary of Health and Human Services Tommy Thompson
Mike Leavitt
Secretary of Education Rod Paige Margaret Spellings
Secretary of Housing and Urban Development Mel Martinez
Alphonso Jackson Steve Preston
Secretary of Transportation Norman Mineta Mary Peters
Secretary of Energy Spencer Abraham Samuel Bodman
Secretary of Veterans Affairs Anthony Principi Jim Nicholson James Peake
Secretary of Homeland Security Tom Ridge Michael Chertoff