Marc Chagall
1887- 1985
Artist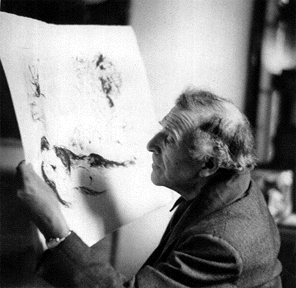 Born in Czarist Russia, Marc Chagall became one of the seminal artists of the 20th century. After studying in St. Petersburg, he left Russia for Paris and a stay of four years. Though he returned to Russia, he eventually made France his permanent home, where he lived for most of his life after 1922. During the Nazi occupation of France, he went to the United States where he remained until 1948. Chagall was known for his somewhat surreal subject matter with themes drawn from his childhood experiences, Jewish folklore, and mythology.

Bibliography:

Chagall, Marc. Preface by Jean Chatelain.. The Biblical Message of Marc Chagall. New York, Tudor Pub. Co. [1973]

Chagall Discovered: From Russian and Private Collections. Contributors, Irina Antonova, Andrei Voznesensky, and Marina Bessonova ; [translated from the Russian by John Crowfoot and Alex Miller].

Chagall, Marc. Chagall. New York : Hugh Lauter Levin Associates: distributed by Macmillan, c1988.

Chagall, Marc. Edited by Charles Sorlier; pref. by Jean Adhemar. Chagall's Posters: A Catalogue Raisonne. New York : Crown, c1975.