Irving Berlin
1888-1989
American Songwriter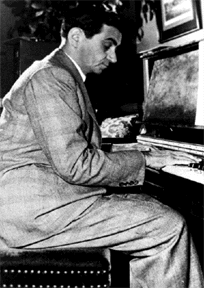 Russian-born Irving Berlin became America's favorite songwriter beginning with "Alexander's Ragtime Band" in 1911 and continuing through a stream of hits that included "Puttin' On The Ritz," "Easter Parade," "There's No Business Like Show Business," "White Christmas" and "God Bless America." Though he never learned to read or write music, Berlin wrote over 1,500 songs, in addition to 19 musicals and scores for 18 movies.

Bibliography:

Jablonski, Edward. Irving Berlin: American Troubadour. New York : Henry Holt, c1999.

Furia, Philip; with the assistance of Graham Wood; songography" compiled by Ken Bloom. Irving Berlin: A Life in Song. New York : Schirmer Books, c1998.

Hamm, Charles. Irving Berlin: Songs from the Melting Pot: The Formative Years, 1907-1914. New York : Oxford University Press, c1997.