Corazon Aquino
1933-
Philippine Politician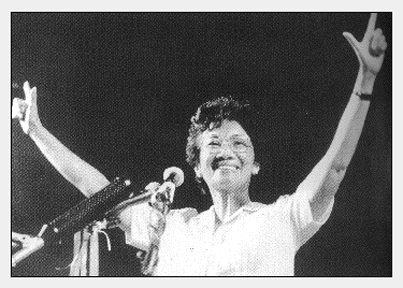 Educated in the United States, Philippine stateswoman Corazon Aquino lived in exile with her husband Benigno, the leader of the Philippine opposition. Following Benigno's assassination (on international television as he arrived back in the Philippines in 1983), she became active in the movement opposing incumbent President Ferdinand Marcos. She led the opposition in the elections of 1986. When Marcos claimed victory, rioting broke out, which resulted in his fleeing the country and Aquino becoming President. She retired in 1992.

Bibliography:

Komisar, Lucy. Corazon Aquino : The Story of a Revolution. 1987. Braziller George Inc.

Haskins, James. Corazon Aquino: Leader of the Philippines. (Contemporary Women). 1988. Enslow Pub.