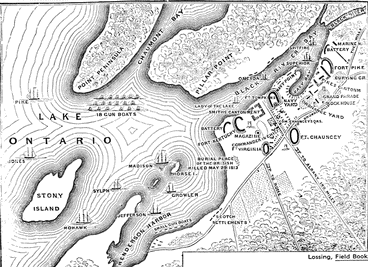 On May 27, 1813, the British attack Sacketts Harbor. The British force is repulsed after a difficult battle.
---
On May 27 1813 British forces led by Lieutenant General Sir George Prevost who was the British Governor General of Canada, began moving on Sackets harbor. As they approached the harbor, the spotted ships at a distance. Prevost feared they were American ships so he temporarily withdrew. This gave the Americans the time to strengthen their defenses. Lieutenant Colonel Electus Backus commanded the American forces. There were 500 regulars and 250 militiamen at Sackets Bay. 500 additional militiamen arrived as reinforcements. 
On May 29th the British attacked. They had hoped to land south of the town, but American defenses were too strong and they were forced to land on the north side of the town.  The British advanced towards the town. Initially American forces fell back, but they rallied and succeeded in stopping the British advance. When the British forces failed to dislodge the American Prevost called off the attack and withdrew.